Losing Inches is Only Good If You're Talking Weight Loss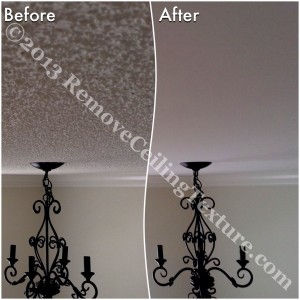 It's a misconception that the only way to achieve modern, smooth ceilings is by drywalling over textured ceilings.  Remove Ceiling Texture has been creating sleek ceilings for years and we have never put new drywall on top of existing texture. There are several problems with drywalling over textured ceilings. Firstly, you'll lose headroom. Losing half an inch may not seem like much, but it can make a big difference in the feel of the room, especially if it's in a basement. Secondly, once the drywall is up, it will still need to be finished professionally if you don't want to see drywall seams or screws. And thirdly, you'll have to pay for drywall! Our exclusive process of smoothing ceilings means that you won't lose headroom, your ceilings will be as smooth as glass and you won't have to pay for new drywall.
Smooth Ceilings – a North Vancouver Home's Crown
We were called by homeowners in North Vancouver who were considering drywalling over textured ceilings. They decided to call us first for professional advice.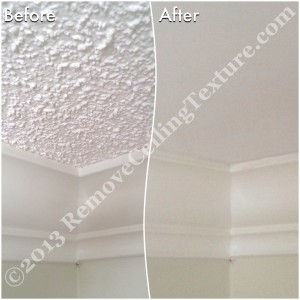 We discussed some of the issues that would come up by adding drywall–less headroom and the cost of drywall. Another issue for them was the beautiful crown moulding throughout the house. If new drywall was applied, the moulding would need to be removed first and then be re-installed. This would add to both the cost and timeline of the project. Our process of smoothing can be done with the crown moulding in place, and without the added layer of drywall. In addition, it's a near dust-free method ensuring that their lives are not completely disrupted.  They decided to trust us with their ceilings. As you can see from the before and after photos, the results are professional and polished.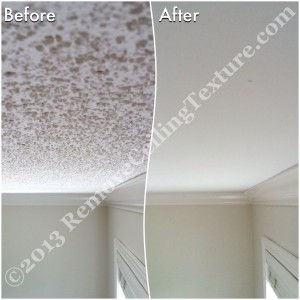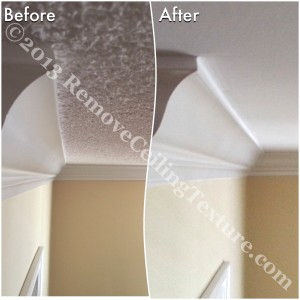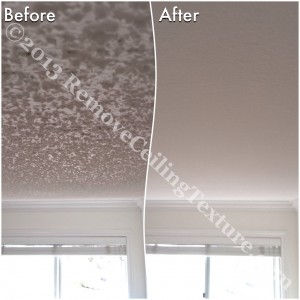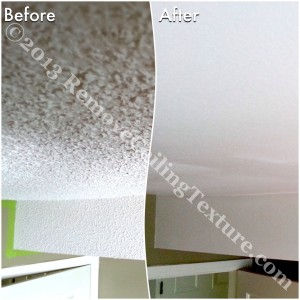 When it Comes to Ceilings, Professionals Count (well, more accurately, they "smooth")
If a contractor suggests drywalling over textured ceilings, it probably means that he (or she) just doesn't know what else to do with it. They think that removing the texture is a messy, time-consuming process that they don't particularly want to deal with. And you know what? If you don't know what you're doing, removing ceiling texture is messy and time-consuming. However, at Remove Ceiling Texture our entire area of focus is…ceilings. We have the tools, we have the knowledge and we have the expertise that other contractors just don't have when it comes to smoothing ceilings. As a bonus, our process is not nearly as messy as some contractors tend to be.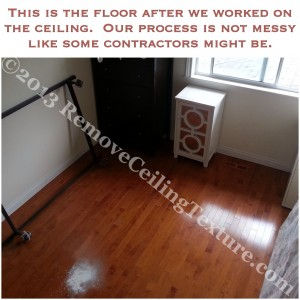 Here are some During and After shots of our work: