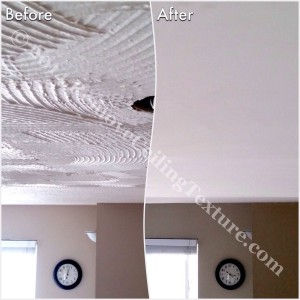 Many companies offer various types of textured ceiling removal.  A drywaller might tell you he can cover your texture with new drywall. A guy with a handyman service may tell you he can easily scrape off the popcorn. You may even have a neighbour who swears his sister-in-law's brother's cousin used some 'magical' product to remove his popcorn ceilings and he can probably 'score' some for you too. He might then ask if you have anything to munch on.
The problem with these solutions is that they are half solutions at best. None of these people are experts in ceilings or textured ceiling removal.
Covering your texture with drywall is unnecessary and leaves your ceilings at least 1/2″ lower. Not to mention you'd have to remove any crown moulding to install the drywall on top of the ceiling texture.
Scraping off popcorn ceilings is not easy and is very messy. Hopefully this handyman is aware of the possibility of asbestos in ceiling texture. Even if you did go the route of having it scraped off, your ceilings are going to look pretty awful.  That's because under the texture, they're not finished. That's the beauty of ceiling texture for builders. The texture covers many ceiling flaws. Once the texture is gone, the flaws will become apparent.
Fees, Surcharges and Hidden Costs
The other problem with dealing with unqualified people, is that the price they give you may not turn out to be the final price. Sometimes it's an innocent mistake–ceilings are difficult to work on and they didn't realize how much work it would be, so they have to charge more. Even if it's innocent, it's still not fair to you.
Other times it can be less innocent, with verbal quotes that are very low just to get you to hire them.  Sometimes they won't even come out to have a look at the ceilings. If they won't come out to look at your ceilings, that's a red flag. At RemoveCeilingTexture.com, we won't give you a firm quote until we see the ceilings. And once we do give you a firm quote, it's in writing and we won't charge unexpected fees on top of it.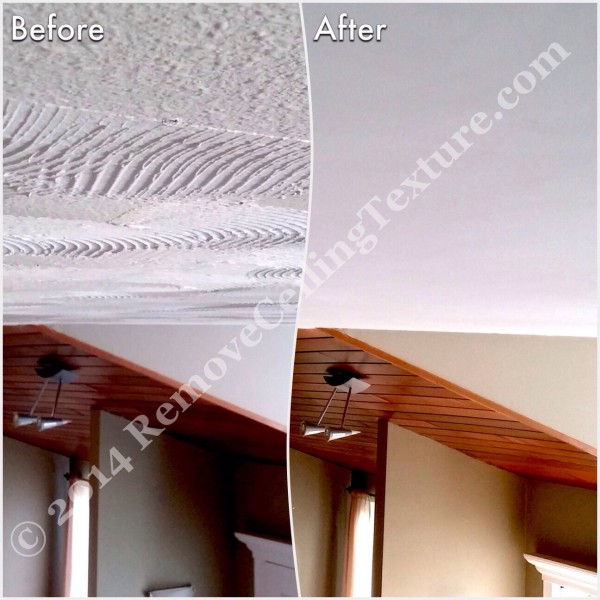 Textured Ceiling Removal in Coquitlam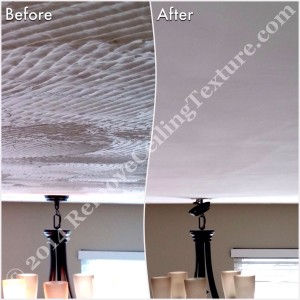 We were contacted by homeowners on Windward Drive in Coquitlam who wanted textured ceiling removal. We came out to look at the ceilings and take some measurements. We then sent them a written quote, through email. They contacted us to say that someone else had given them a verbal price over the phone that was quite a bit lower, and they offered to paint the ceilings too, for only $100 more. This seemed fairly suspicious to us. The contractors had not viewed their ceilings and yet they promised a very low price. And $100 would barely cover the cost of the paint, let alone the labour to apply it. We told them to be wary of this, and get it in writing.
We didn't hear back from them for a while. When we did, they told us that it turned out that the low price the other company offered did not include everything, and the actual price was going to be similar to the price we quoted. The homeowners decided to go with us because we had been forthright about the price, we were professional, and we are ceiling experts.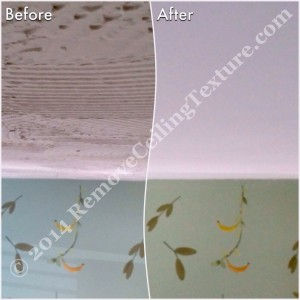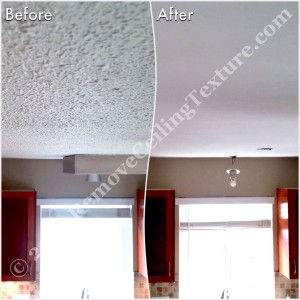 If you'd like smooth ceilings and want to know more about having the texture removed, contact us today for a FREE quote. Call us at 604-420-7578 or contact us by email.