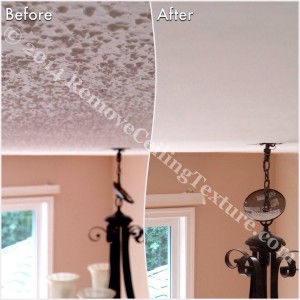 If you're reading this, you probably have popcorn ceilings that you'd like to have disappear forever. Welcome to the club–we hate them too.
At RemoveCeilingTexture.com, as our name points out very clearly, we remove ceiling texture. But what we really do is provide smooth ceilings. And while the end product of smooth ceilings is always the same, our method to achieve this sometimes differs.
Our usual process is to grind the texture down with a special machine made for the ceiling industry, then we resurface the ceilings using a hawk and trowel method. The final step is a light sanding and then your ceilings are done and ready for paint. However, in some cases it's preferable to skip the grinding step and start with the resurfacing. This means that the texture will remain on your ceilings, but it will be covered up and sealed with the compound that we use for resurfacing.
When is Covering Popcorn Ceilings Preferable?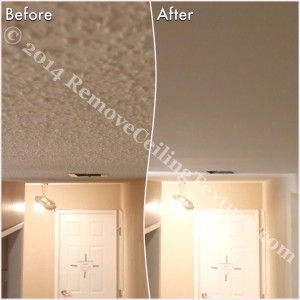 If you live in a home that was built prior to about 1982, there is a chance that your ceiling texture could contain asbestos. Asbestos was used for various reasons (read our article about asbestos for more information). Anytime there is asbestos involved, you do not want to scrape it. Scraping can cause the asbestos fibres to become airborne, which is when they can be dangerous. The only way to know for sure if there is asbestos is to have a lab examine a sample under a microscope.  In cases where asbestos is confirmed (or suspected, but an asbestos test has not been done), we always skip the grinding and instead cover the texture directly with our compound. This seals in the texture and any possible asbestos fibres. The ceilings then get at least two more coats of the compound to ensure proper coverage and to make sure your ceilings are smooth.
Will Covering Popcorn Ceilings Make My Ceilings Shorter?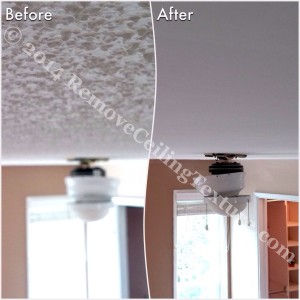 When covering popcorn ceilings, we make sure to apply very thin layers of compound. Since we apply it by hand, we can control the depth of the compound and only put enough to cover the texture and make the ceilings smooth. They will be a small fraction of an inch shorter but it won't be noticeable. In fact, the smooth ceilings will actually make the room feel larger and brighter. It's surprising how popcorn ceilings can make a space feel small and restricted. People often don't even notice this until the ceilings are smooth. It's like a weight has been lifted from the room.
The Before & After images throughout this article are from a home in Delta that we worked on. We applied our compound directly onto the popcorn instead of removing it first. Below are some "During" photos of this project.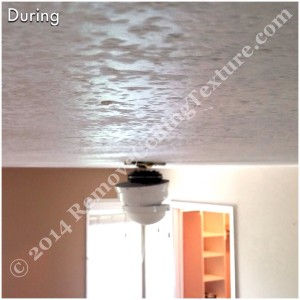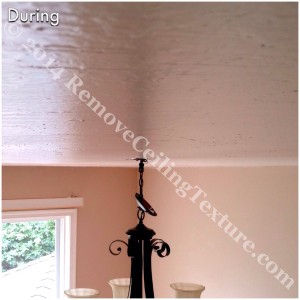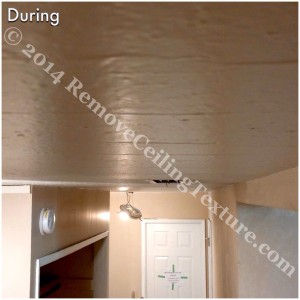 Whether the popcorn needs to be removed or covered, RemoveCeilingTexture.com can provide you with smooth ceilings. Contact us today for a FREE quote! Give us a call at 604-420-7578 or contact us by email.