Most fads of the 60s and 70s have pretty much disappeared. Except pet rocks. Like parrots and other long-living animals, pet rocks often outlived their owners, ending up abandoned in animal shelters.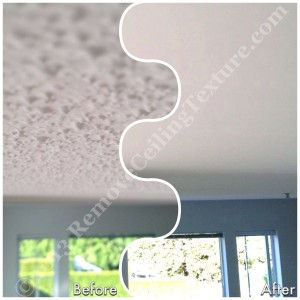 Anyway, for some unexplainable reason, popcorn ceilings, sometimes known as stippled ceilings, are also still hanging in there. What you may not know is that you can do something about it! Ceiling refinishing is an option that will leave you with smooth ceilings.
Can't I Just Scrape Off My Ceiling Texture?
Getting smooth ceilings isn't as simple as scraping off the texture. There are other things to consider, outlined below, and this is why a professional who has a lot of ceiling experience should be hired. At RemoveCeilingTexture.com, our entire business is built around ceiling refinishing. We have the expertise necessary to turn your outdated, textured ceilings into smooth, flawless surfaces.
Asbestos:
If your home was built prior to the early 80s, the ceiling texture could contain asbestos. Asbestos fibres are generally not dangerous unless they are airborne, which they will become if you scrape the texture. These fibres are microscopic and when breathed in can get lodged in your lungs. This can lead to breathing problems, scarring and in extreme cases, mesothelioma. If you do have asbestos in your texture, you can still have smooth ceilings. RemoveCeilingTexture.com's unique process can give you smooth ceilings without disturbing the asbestos fibres. The fibres are sealed in and won't be disturbed unless there's some sort of home demolition, or a major earthquake, in which case, ceiling texture would be the least of your problems.
Painted Ceiling Texture:
People often don't know what to do with dirty ceiling texture. It can't be cleaned, so they just slap some paint over it. This method is not an ideal solution. Who wants to repaint their ceilings every 6 months? If the texture has been painted, it won't scrape off easily, if at all. It'll be very difficult to remove it without gouging the ceiling. This is another great reason to have the professionals at RemoveCeilingTexture.com deal with your ceilings.
Uneven Ceilings:
The reason stipple is applied to ceilings is so that they don't have to be finished properly. This saves the builder time and money. If you do manage to remove the texture from your ceilings, you will likely find that they're in rough shape. They may be uneven or wavy. Wavy ceilings are seen especially in condos with concrete ceilings. The concrete frames they use are not perfect, so you're left with waves, ridges, holes and other blemishes. This is where ceiling refinishing comes in.
What is Ceiling Refinishing and What is Remove Ceiling Texture's Process?
If there is no asbestos in the ceiling texture, the texture is removed with a special sander/vacuum. This is not some Red Green inspired duct-taped contraption, but a refined piece of German engineering created specifically for the wall and ceiling industry.
*If there is asbestos in the ceiling, we skip the sanding step and add an encapsulant to the mud compound for the skim coating step below.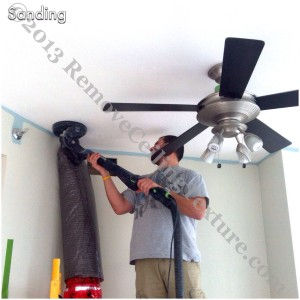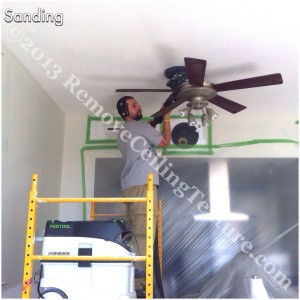 Next comes the crucial step that will make your ceilings look professional: ceiling refinishing. A mud compound is applied by hawk and trowel, the same method used by plaster artisans for centuries. Depending on the condition of the ceiling, one to three coats are applied in this fashion, with time for drying between each coat.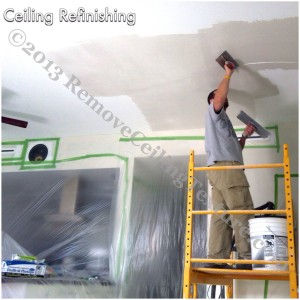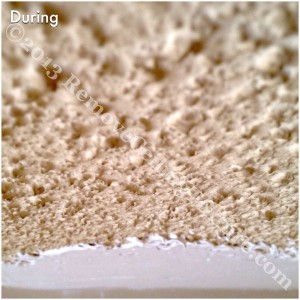 The last step is sanding. Our method of applying the compound is so precise that the ceilings don't really need much sanding at all. Just a light sanding and the finished product is revealed: a smooth, flawless surface.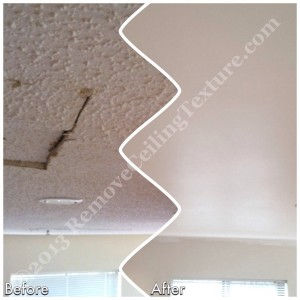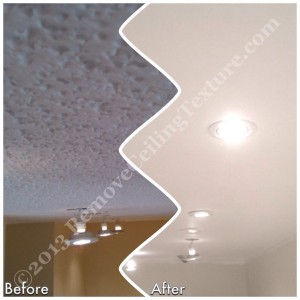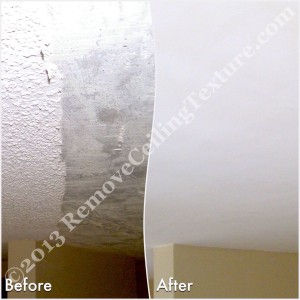 So you thought getting smooth ceilings would be easy. You armed yourself with a scraper and the same single-minded determination that wives often witness when husbands refuse to follow the IKEA directions (seriously though, you need the Rosetta Stone to figure out those Swedish hieroglyphics). You thought, "I'm a handy guy (or gal), how hard could it be?" You got up on your ladder and you began the tedious process of scraping the popcorn texture. You soon regretted this decision. Either the texture didn't come off nicely and you've damaged the drywall, or the texture did come off, but then you saw that the ceilings were uneven and looked terrible.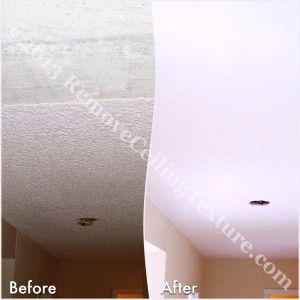 It's shortly after this happens that we get a lot of calls from bashful homeowners. Our name may be Remove Ceiling Texture, but only because "Remove Ceiling Texture & Refinish Ceilings & Repair Ceiling Imperfections & Fix Homeowner's Ceiling Mistakes" makes for a pretty long domain name.
Instead of trying to do it yourself, contact us from the start. We provide FREE, no obligation quotes for ceiling refinishing. Call us today at 604-420-7578 or contact us here or use the form below.