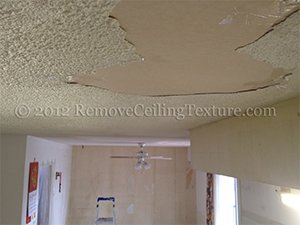 First things first; Deal with the leaky roof
The leaky roof in this Burnaby-North home was casing major headaches for the owners. Their leaky roof problem in previous years, had eventually traveled down into their ceiling and started turning their ceiling texture into something that looked like it belonged in a horror movie.
Remember, the risks associated with a leak in your roof are not limited to an ugly stain on the ceiling, or some irregular looking ceiling texture. Leaky roofs are one of the major contributors to the development of mold and mildew inside wall and ceiling cavities that can lead to respiratory illnesses and other health complications in your family.
A Leaky roof and subsequent damaged ceilings can cost a fortune
The family had contacted other outfits that claimed they could fix the ceiling, but all these other outfits ended up suggesting removal of the entire ceiling or drywalling on top of the existing ceiling. Both those options were impractical and very expensive with some quote coming in at $4000.
Now if you have just paid thousands of dollars to replace your leaky roof, the last thing you want to be doing is to spend another few thousand to get the damaged ceilings back to normal. And as suggested in this GlobalBC story, a leaky roof can cost a homeowner/landlord a lot of money.
RemoveCeilingTexture.com to the rescue
That's where we came in and helped the homeowner fix his damaged ceiling for a fraction of the original quote. Not only do the ceilings look great after our process, they are also fixed properly with minimal disruption to the people living in the house. The leaky roof was a distant memory and the ceilings were smooth, popcorn-free and beautiful. We then finished the ceilings with 2 coats of premium ceiling paint and returned the house to a very happy family.
The results speak for themselves. If you have a ceiling in your home where the texture is cracking, delaminating or otherwise coming off as a result of a leaky roof or any other mishap, please contact us today and let us help you get your ceiling back to a beautiful new look.
Click on thumbnails to see full size pictures.