This cozy apartment unit in Coquitlam had been listed for sale and was on the market for nearly 3 months. Every time potential clients came through, they would complain about several cracks in the ceiling which was covered by very course popcorn texture. Ugly ceilings were preventing the sale of this apartment.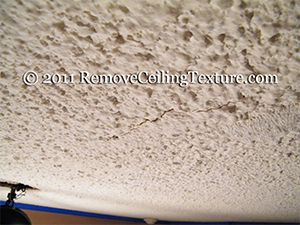 All offers made on this unit were $5000 lower than the listing price, citing the ugly ceiling. Prior to contacting us at RemoveCeilingTexture.com, the owner had sought help from other "handyman" sources. He had been told that there was no way to fix these several cracks in the ceilings permanently, unless the ceiling was completely ripped out and new drywall installed on the ceiling. This was not an option for the owner as it was a very expensive method and it would mean severe disruption to his lifestyle. It would also mean that he would have to take his apartment off the market for a lengthy period of time until the ceilings were fixed.
So he finally did the right thing and got in touch with us at RemoveCeilingTexture.com.
As you can see in the pictures below, RemoveCeilingTexture.com came to the rescue of this seller. We were able to fix all the cracks in the ceiling and remove the ugly ceiling texture so this homeowner could sell his apartment at full asking price. Better yet, we fixed and beautified the ceilings for a fraction of the dollars that potential buyers were holding back from him. The cracks on the ceilings were fixed, the ceiling popcorn was removed and the ceiling was painted and ready all withing 3 days.
If you are thinking about selling your Vancouver home, don't let an ugly ceiling lower your property value. Let us help you maximize your sale price by making your ceilings smooth, beautiful and free of cracks and free of popcorn texture. Book your free consultation TODAY by getting in touch with us.
Click on thumbnails to enlarge