Living in a Concrete Jungle
Behind the sleek glass of highrise apartment buildings is concrete, and lots of it. When building these super-structures, concrete is poured into forms and left to cure. After the forms are removed, the ceilings generally aren't perfectly flat.  To disguise the residual waves, popcorn ceiling texture is often applied.  Does this mean if you have concrete ceilings you're stuck with ugly ceiling texture?  Not if RemoveCeilingTexture has anything to say about it!
With Concrete Ceilings, Professionals Make All the Difference
We were called in to have a look at the popcorn covered concrete ceilings of a condo at Marinaside Crescent in Yaletown.  The popcorn was an ugly blemish on the homeowner's gorgeous False Creek views and she wanted it gone.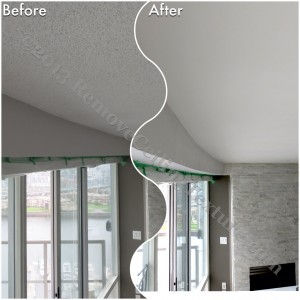 She could attempt the messy and tedious process of removing the texture herself, but as mentioned above, concrete ceilings are often wavy and can even have cracks due to the shrinkage of the concrete as it matures (thermal expansion and shrinkage of concrete).  The ceilings would still need to be finished and would have to be as smooth as glass because the partial southern exposure will magnify any imperfections.  So instead of hiring a "jack-of-all-trades" renovation company, she trusted RemoveCeilingTexture with her ceilings.  Our expertise and entire area of focus is just that: ceilings.  We know all about working with tricky ripples and unsightly cracks in concrete ceilings (read about another downtown Vancouver condo with concrete ceilings).
Ugly, Textured Concrete Ceilings No Longer Compete with Million Dollar Views
As you can see from the before and after photos, the rough, bumpy ceilings were completely revamped.  Furthermore, because the homeowner hired ceiling experts, she doesn't have to worry about imperfections in the concrete ceiling making a nasty appearance.  She can now fully enjoy the impressive Vancouver skyline.