Ceiling finishes are pretty much only limited to your imagination.  From Michelangelo-esque works of art to wallpaper to coffered ceilings, the one thing required before beginning is a flat surface. Popcorn ceiling texture gets in the way of most ceiling finishes.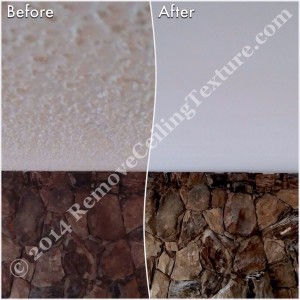 At RemoveCeilingTexture.com, we specialize in not only removing the texture, but more importantly, in creating sleek, blemish-free surfaces. They are beautiful left this way, or use them as a base to apply mouldings, medallions or stencils to get the look you want.
Sashimi, Steak Tartare, Egg Nog:  Must Our Concrete be Raw Too?
If you live in a highrise building, you likely have concrete ceilings.  Designers of these buildings use various concrete ceiling finishes to achieve whatever look they're going for. Sometimes they're left bare for a raw, industrial look. This look isn't for everyone.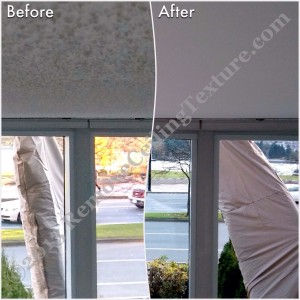 While it may look glamourous in magazines or movies, in real life it can feel cold, impersonal and just plain unfinished. Other times the concrete's sprayed with ceiling texture just like drywall ceilings are. Why? It's cheaper to spray popcorn texture than it is to finish them to a nice smooth surface.  If you have over 100 condos in a building to finish, speed usually triumphs over quality. RemoveCeilingTexture.com can remove the texture, fix any cracks and holes and skim over the concrete to create a warmer, finished look.
Smooth Ceiling Finishes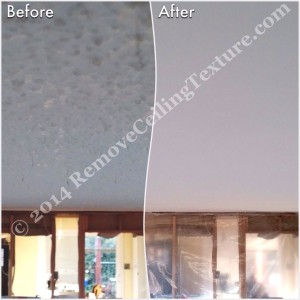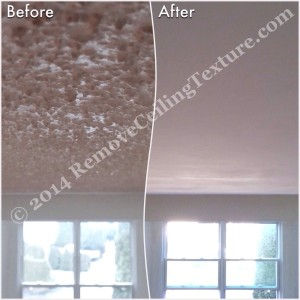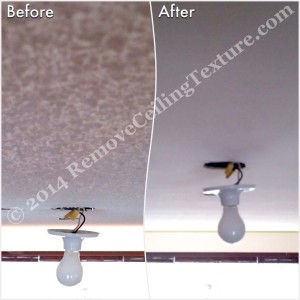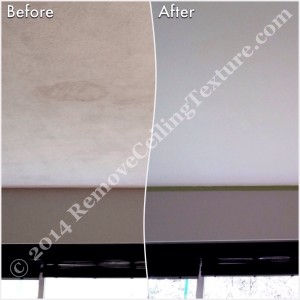 Contact RemoveCeilingTexture.com today for a FREE, no obligation, quote for ceiling texture removal. Send us an email, or give us a call at 604-420-7578. We'd love to discuss your project and answer any ceiling related questions you may have.