A Diamond in the Rough
Smoothing exterior stucco walls is not often thought of when it comes to renovations and home improvements.  Exteriors are sometimes overlooked here in the rainy Lower Mainland, where we tend to spend the majority of our time inside. We watch TV, read and browse the internet all from our cozy living rooms. When thinking about improving our homes, we flip through magazines (or browse Pinterest obsessively!) showcasing granite counter tops and gas ranges in the kitchen, or luxurious marble steam showers in the bathroom. But when was the last time you took a critical look at the exterior of your house? Could it use a bit of polishing to really shine? The exterior is the facade you present to the world (or at least to the neighbours out for their evening stroll). Shouldn't it reflect your style as much as the inside of your home does?
Outdoor Living Made Perfect
Summer is the perfect time to focus on exteriors. Evenings and weekends are spent lounging in backyards and barbecuing on patios.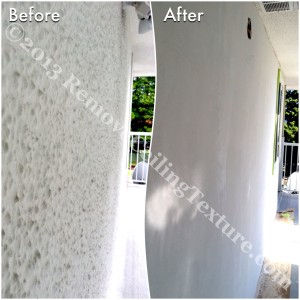 A simple thing like smoothing exterior stucco walls can give your home a makeover that will make sipping lemonade or frosty beer in the summer heat that much more enjoyable. A Coquitlam family contacted us about their stucco covered exterior walls. The homeowner is a home decorator and had designed a beautiful outdoor living area for her family to spend their summer evenings. However, the stucco just wasn't in harmony with the rest of the design. They called us to remove it. It was a minor renovation that only took a few days, but it really improved the look and feel of the space. The last piece of her design puzzle was smoothing exterior stucco walls.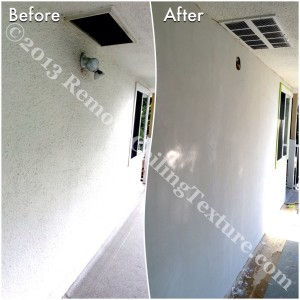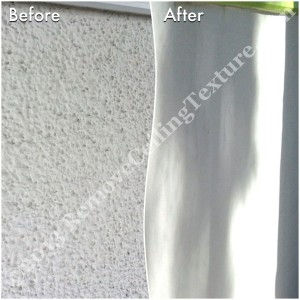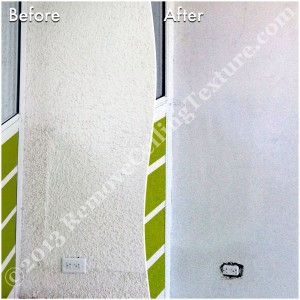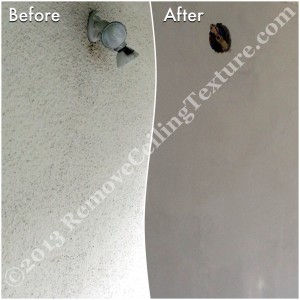 Texture, Be Gone!
At Remove Ceiling Texture, we specialize in removing unnecessary texture from homes. Texture is usually applied to hide imperfections. It doesn't look good and can attract all sorts of things from dust and allergens to spiderwebs and insect cocoons. Whether you're thinking about removing ceiling texture or smoothing exterior stucco walls, your best bet is to call the professionals. We can solve your texture problem so you can go back to enjoying the summer sunshine.