Richmond Renovation
We were recently called to look at the ceilings of a home in Richmond. The homeowners had installed pot lights and there was some drywall that had been replaced also. The new section of drywall did not have popcorn texture like the rest of the ceilings did, and they wanted this fixed. They asked us at Remove Ceiling Texture for a price for smoothing the ceilings. We took our measurements and sent them the quote that evening.  They reviewed our quote for smoothing the ceilings and let us know that they had instead decided to have the section textured to match the surrounding texture, as they thought this would be the less expensive option.  Since our business is built on removing ceiling texture, we did not give them another quote for matching the ceiling texture, but wished them the best.
Matching Ceiling Texture – an Impossible Feat
A few days later, we heard from them again. They were shocked that our quote for smoothing the ceilings of the whole main floor was actually not that much more than the quotes they had received from other companies to apply ceiling texture to the small section of new drywall and match it to the existing texture. It would cost them two thirds of our price for the other companies to do this small patch job.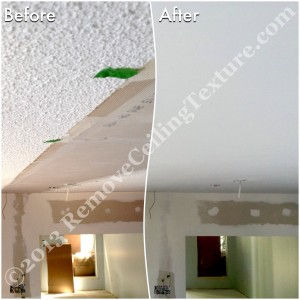 Not only was the price per square foot more expensive for matching ceiling texture, it's likely that it would not blend perfectly.  Since it's very difficult to seamlessly integrate new ceiling texture into existing texture, there's almost always some telltale sign betraying the patch job. Once they realized they could have custom, smooth ceilings for nearly the same price as texture application, they made the easy decision to have us work our magic.
An Artisan's Touch
Once we started, they could see that our work involves a great deal of expertise, and they were getting a lot of value for their money. We use the same hands-on approach that master tradesmen have been using for centuries—a hawk & trowel and, most importantly, an artful eye. You can see from the before and after photos what a difference the ceiling texture removal has made. The shadows that the texture created are gone leaving the rooms brighter.  The whole place has been freshened up (literally—ceiling texture traps allergens that can aggravate asthma!). Instead of a large strip of noticeably different ceiling texture dividing the room, they now have smooth, seamless ceilings on the entire main floor.  They were thrilled with the results and glad they had changed their mind about trying to match the texture.