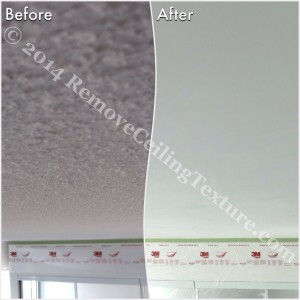 The Importance of Hiring Professional Ceiling Contractors
Professional ceiling contractors can make all the difference when it comes to having your ceiling texture removed. An inexperienced contractor who is not familiar with ceiling texture can cause delays in your project, and the end results can be less than ideal.
We were contacted by new homeowners on Homer Street in Vancouver. They had just purchased their first condo and while they were excited about this, they were not thrilled with the textured ceilings. One of the first things they planned for, before moving in, was ceiling texture removal. Unfortunately for them, they hired someone with very little experience with ceilings.
They were promised a three-day job by their contractor. By the end of the first day, the frustrated contractor had completed only one small room and told them there was no way he could finish the job for them. Needless to say, the homeowners were pretty frustrated too. When dealing with ceilings, especially concrete ceilings, it's important to hire professional ceiling contractors. Some drywall contractors and general handymen may think that removing popcorn ceilings is no big deal, but they often find they are in over their heads, as was the case in this instance.
RemoveCeilingTexture.com was then contacted. The homeowners were a bit panicked by this time because they were anxious to move in. We had a look at the ceilings and assured them it would be no problem for us, as we've done many concrete ceilings. In fact, we had done a condo in the very same building. They were happy with this news and agreed for us to start the following week. We soon had the texture removed in their condo and resurfaced the ceilings to a flat, smooth surface.
Here are some before and after photos from this project: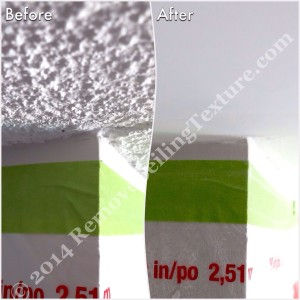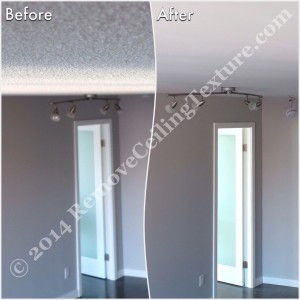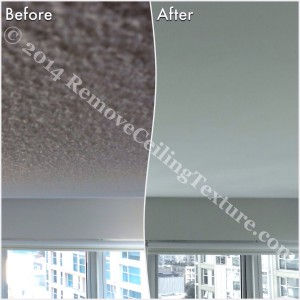 Riding the Waves
It's especially important to hire professional ceiling contractors when dealing with the concrete ceilings of highrise buildings. The ceilings are sometimes wavy due to inconsistencies in the forms used when they pour the concrete. At RemoveCeilingTexture.com, we resurface the ceilings by hand and can adjust for these waves.
This "During and After" photo shows a ceiling that had the texture removed by someone inexperienced. We were later called in to fix the dips that were apparent. If we had been contacted from the start, the homeowner would not have had to pay twice for flat ceilings.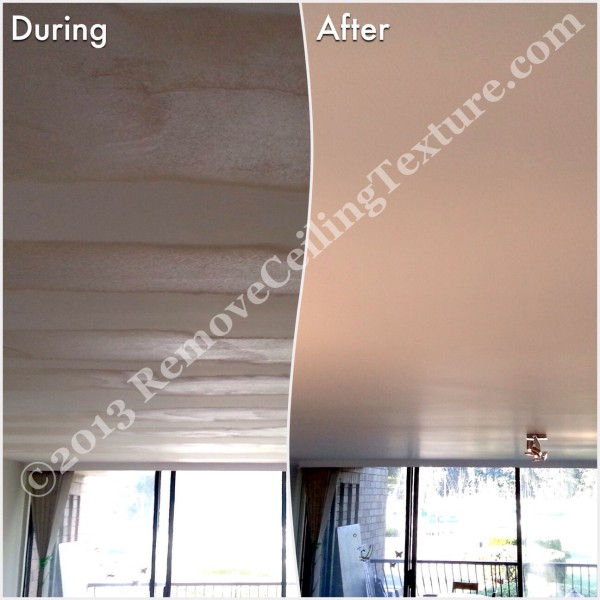 If you have popcorn ceilings that you'd like to have removed, contact the professionals at RemoveCeilingTexture.com. As experts in the ceiling industry, we get the job done right the first time. Call us at 604-420-7578 or contact us by email.