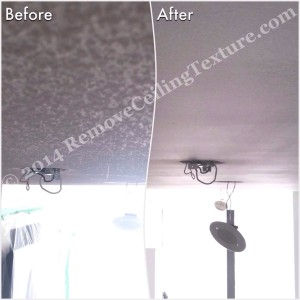 Removing ceiling texture is something we at RemoveCeilingTexture.com take pride in.  Textured ceilings, popcorn ceilings, stipple ceilings…whatever you want to call them, we despise them. It gives us pleasure to take a home that has dated texture and turn it into something modern, bright and airy. There's nothing better than the look on the homeowner's face when they see the ceilings at the end of the project. They often haven't realized how much the popcorn ceilings have affected the feel of the home, but once it's gone, the ceilings look higher and the whole space becomes brighter.
Why Do Popcorn Ceilings Exist?
It's one of the great questions of our time.  Second only to the meaning of life, of course.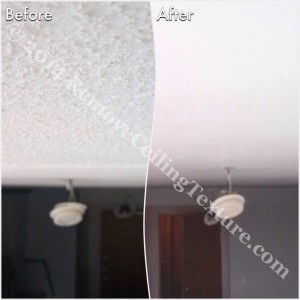 Putting a popcorn-like texture on the ceilings is pretty absurd if you think about it. Where else in your home has a thick, ugly texture been sprayed? Do your kitchen cabinets have texture? What about your floors?
Ceiling texture is popular with developers because it's much easier and faster to spray the ceilings than it is to finish the drywall (or concrete if you're in a highrise). And ceilings are a difficult area to work on because they're above your head and out of reach from the floor. This means it takes more time and effort to create a nice, smooth ceiling. Unless they're building a custom home, or build high-end homes, developers usually want to get the house built as quickly as possible. The faster they can get the house sold, the quicker they can see a profit. Popcorn ceilings are a way to cut corners a bit. Some people argue that ceiling texture stops echoes, but as we wrote in a previous post, The Lowdown on Textured Ceilings, it's not the popcorn that is absorbing the sound in a room and thus stopping echoes, it's your furnishings. If you have a completely empty room with popcorn ceilings, there will still be an echo. After removing ceiling texture on many homes, we've yet to have anyone complain about echoes.
Improve Your Health by Removing Ceiling Texture
It's not just that popcorn ceilings are aesthetically offensive, although that's reason enough to want them removed. They can be detrimental to your health. Popcorn ceilings are known to aggravate asthma and allergies. This is because they trap dust, which can later fall back down, making your eyes itchy and your nose runny. If you or a loved one has asthma, popcorn ceilings can be quite dangerous. A homeowner in North Vancouver contacted us about removing ceiling texture because her grandson was allergic to dust and she was concerned that her ceilings could be making his symptoms worse. She was thrilled with her ceilings after we worked on them. They are now smooth and dust-free.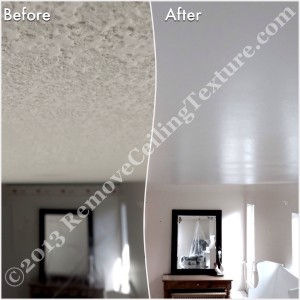 Removing Ceiling Texture in Coal Harbour
We were recently contacted by a homeowner on Alberni Street in Vancouver. She was concerned about germs and dust that could become trapped in the popcorn ceilings, plus she hated that her condo looked like it was stuck in the 1970s.  She decided to remove the texture herself.  When she was done the bedroom, she was not impressed with her work. The ceilings were rough and uneven, but she figured that's as good as they were going to get and she would just have to live with them.  Then she found RemoveCeilingTexture.com. When she realized that there is a company in the Lower Mainland that specializes in removing ceiling texture and resurfacing ceilings, she was thrilled. She decided to have us do the rest of her condo. Since it had taken her a long time to scrape her bedroom ceiling, she figured we would be there all week working on her ceilings. When we told her that we should be able to finish within 3-4 days, she was so excited. Her ceilings were straightforward and everything went as planned. We were done within 4 days and she was very pleased with the results.
Here are some before, during, and after photos from the project on Alberni Street: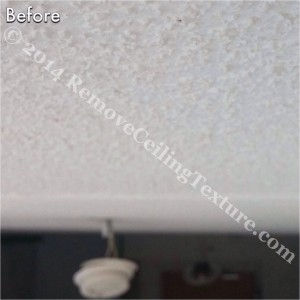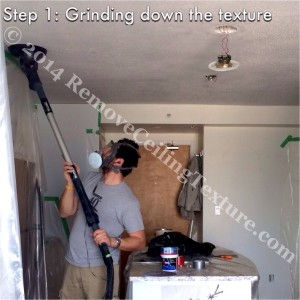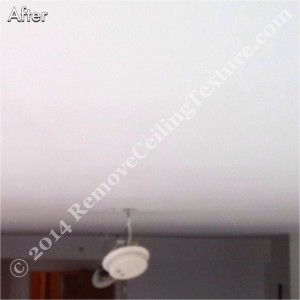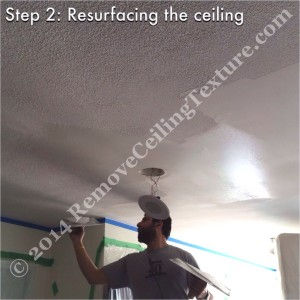 If you're tired of your home looking outdated or are concerned about the health risks that popcorn ceilings pose, removing ceiling texture could be just what is needed. Contact us today for a FREE quote. Give us a call at 604-420-7578 or contact us through email.