This cozy, 1980's hi-rise apartment at Metrotown, was in need of some well-deserved renovation, and that's exactly what the owners decided to do. Once the furniture was removed and carpet was pulled up, we moved in to remove that ugly ceiling texture, which had been collecting dust for over 20 years. Not to mention that after 20 years, the owners were sick and tired of looking at it. The owners of this cozy condo were simply looking for one thing;  smooth ceilings throughout the apartment.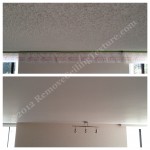 We removed the popcorn ceiling, skim coated the underlying (rough) concrete ceiling, sanded the ceiling to a smooth finish and painted the ceiling with a ceiling-specific, flat, white primer and paint. As you can see, the results speak for themselves. There is a specific problem that concrete ceilings pose when removing the textured ceilings. This problem is no apparent prior to painting the concrete ceilings and if you have an inexperienced person trying to make smooth ceilings out of textured concrete ceilings, you usually run into a finished ceiling that is uneven and imperfect.
With over 20 years of experience in the specific science of removing textured ceilings and making beautiful smooth ceilings throughout Metro Vancouver, RemoveCeilingTexture.com is your first choice for smooth ceilings.
Click on thumbnails to see full size pictures.
If you own a house or apartment in the Greater Vancouver area and are thinking of doing some renovations, it is the perfect time to contact us at RemoveCeilingTexture.com for a quote. We will set up a site meeting, measure your ceiling, go over the details of the process with you and finally submit a written, firm quote. The initial consultation and the quote are free. We will help you get the smooth ceilings you are looking for and in the meantime we will show you how to add thousands of dollars to the value of your home.
Additionally, find out about other renovation services offered by our sister company (Rocman Enterprises Inc) by clicking here.