A Simple Guide on How to Remove Popcorn Ceilings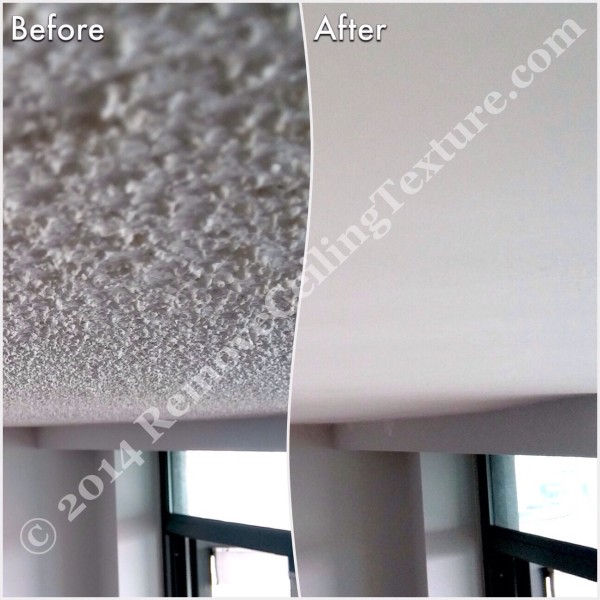 Saturday – Begin Project
1.  Arm yourself with a scraper and determination.
2.  Haul out your old, rickety ladder. Hmmm, you've been meaning to get a new ladder…
3.  Go buy a new ladder. And several other things that catch your eye at Costco.
4.  Set up the new ladder in the bedroom.  Remove the popcorn. Easy.
5.  Realize the layers of paint on the ceiling do not make for easy scraping. Use some elbow grease.
6.  Curse at the hole you've gouged in the drywall by using elbow grease.
7.  Look at the small patch you've managed to scrape off so far. Look at the rest of the room ahead of you and think of the other bedrooms, dining room, living room and hallway still waiting. Sigh.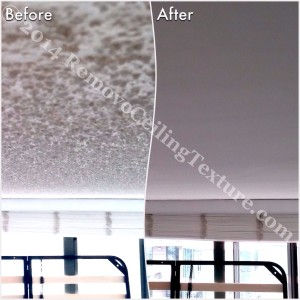 8.  Climb down the ladder and shake off all the popcorn and dust from your hair and clothes. Wonder if the dust is hazardous.
9.  Sit down at computer and Google "is popcorn ceiling dust dangerous". Hide screen from your wife as you see the word ASBESTOS.
10.  Find out that your house is not old enough to have asbestos.  Phew.
11.  Check email, Facebook & Twitter. Find out if the ladder you bought is cheaper anywhere else.
12.  Eat lunch.
13.  March back to the bedroom. Try to ignore Rover's sad puppy dog eyes and the leash in his mouth. Fail. Call for your wife to take Rover for a walk. Remember she has taken your daughter to a piano lesson.
14.  Be pulled along by Rover as he sniffs every bush and pees on every post. Realize, too late, that you forgot to bring a plastic bag. S#*t.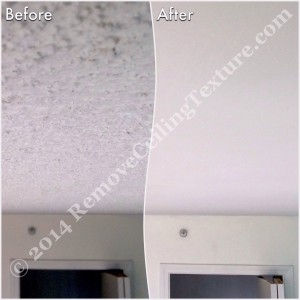 15.  Revived from the fresh air, continue your work in the bedroom. Climb up and down the ladder multiple times as you move it foot by foot around the 200 square foot room.
16.  Greet your wife and daughter as they walk in the door. Wonder why their mouths are dropped open in horror. Look down from your perch on the ladder at the popcorn-strewn floor around you. Comfort them with the fact that at least it doesn't have asbestos.
17.  Vacuum the popcorn-ceiling-dust trail that Rover has tracked all over the house.
18.  Eat dinner. Resolve that you will continue working after dinner.
19.  Decide to catch a bit of the game before continuing.
20.  Decide it's too late to continue with the ceiling tonight. Continue to watch TV instead.
21.  Calmly answer your wife's questions about the scrape marks and gouges in the bedroom ceiling.
Sunday – Continue Project
22.  Mow the lawn.
23.  Start removing popcorn ceiling in hallway.
24.  Remember you have to renew your car insurance before it runs out tomorrow. Go renew insurance.
25.  Start removing popcorn ceiling in hallway, until your wife suggests maybe the living room should be next.
26.  Start removing popcorn ceiling in the living room.
27.  Realize that starting this project may have been a mistake.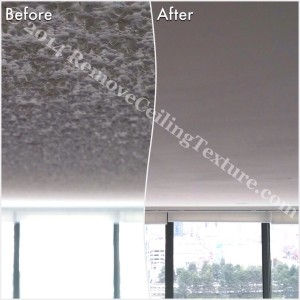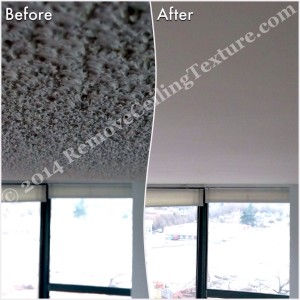 28.  Have an early lunch because you have to go coach your daughter's soccer team.
29.  Notice that your garage s pretty messy and spend several hours sorting through junk.
30.  Have dinner.
31.  Continue working on the living room ceiling until Game of Thrones comes on.
Monday – Friday: You're too tired after work to contemplate working on the ceilings.
Saturday – Sunday: This weekend is your daughter's soccer tournament.
Monday – Friday: You're too tired after work to contemplate working on the ceilings.
Is Your Time Worth Nothing?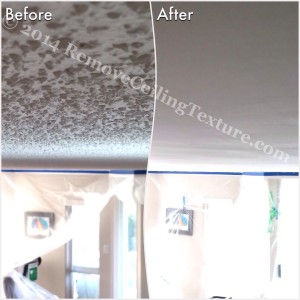 The above timeline may be a bit of an exaggeration, but the point is, you have other responsibilities in your life besides removing popcorn ceilings. When you're working on your own home, there are dozens of things to distract you. You may think, "But I'll save money doing it myself!" That's only true if you value your own time at zero, because as the saying goes, time is money. Also, no matter what the online guides say about how to remove popcorn ceilings, it's not easy work. It doesn't always scrape off easily, and you could damage the drywall beneath. Another thing these guides don't usually mention is that scraping the texture off is only the first step to getting smooth ceilings. Your ceilings will still need to be resurfaced before you can think about painting them, or they will look rough.  It's usually fairly easy to spot a DIY texture removal–they just don't look quite finished.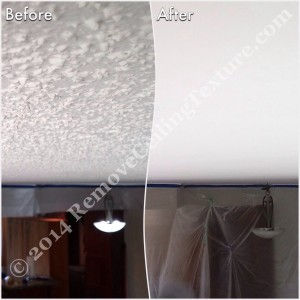 At RemoveCeilingTexture.com we cringe when we see the How to Remove Popcorn Ceilings guides online because we know that as with many DIY projects, it often turns into a headache and the end result is not ideal. We get a lot of calls to fix ceilings that were a failed DIY attempt at ceiling texture removal.
As professional ceiling experts, our only responsibility is to work on your ceilings. We're not distracted by taking dogs for walks, mowing the lawn, renewing the insurance, soccer games, etc., etc. We also have the tools necessary to get the job done. We have a special machine that takes off the texture and then we resurface the ceilings using a method that has been used for centuries by master artisans.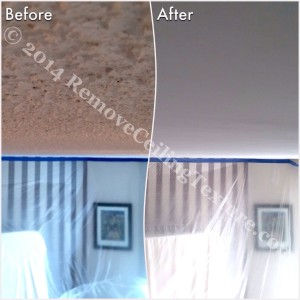 The hawk and trowel. This method takes years of experience to master. Our experience and specialization in ceiling texture removal is what makes us unique. What may take you weeks to finish, we can accomplish in several days. Our end result is professionally finished, smooth ceilings.  Your time is valuable so why waste it with a trial and error attempt at removing popcorn texture?
To get a free quote for removing popcorn ceilings, give us a call at 604-420-7578 or contact us by email.  Also, take a look at some of our other before and after photos to see how ceiling texture removal can transform a room.