Ceiling renovations are often overlooked when it comes to home improvements. The focus tends to be on flooring, fabrics and furniture—all the exciting, pretty things that can transform a room.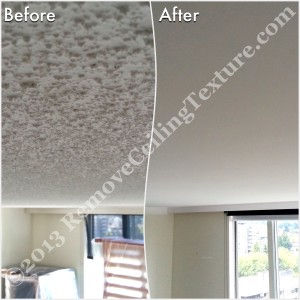 These details are important and should demand attention, but don't forget about the large canvas above your head. Having the popcorn ceiling texture removed can be one of the biggest changes a room can undergo. You may be surprised at what smooth ceilings can do for a space. Besides being a health hazard and having a dated look, ceiling texture absorbs light rather than reflecting it, so it can make the space appear darker and smaller. With smooth ceilings, the space opens up and feels larger.
With Ceiling Renovations, It's All in the Timing
So when is the best time for ceiling renovations?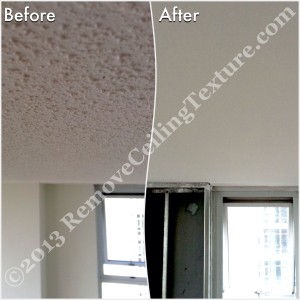 At RemoveCeilingTexture.com we work on ceilings anytime. Even if you're living in the space, we can work around you. However, if you are planning a full renovation, it's best to start from the top down. It's easier for everyone involved in the reno if the ceilings are done first. While our custom process of creating smooth ceilings is not messy, the light sanding at the end to ensure a perfectly smooth finish means that there will be some minor dust. The perfect time for this is before you've installed new cabinets or flooring.
Picture Proof
Below are before and after photos of ceiling renovations we've done in Metro Vancouver. The comment we hear over and over again from homeowners we've worked with is that they wish they had had their ceiling texture removed sooner. They can't get over what a difference smooth ceilings makes in the look of their home.
Whether you're planning a full-scale home renovation, or want to renovate bit by bit, contact us today at 604-420-7578 or by email for a FREE QUOTE on ceiling renovations.